MELITTA® Coffee machine
Model: CAFFEO® CI®
PRODUCT INFORMATION
Intelligent technology for individual indulgence enjoyment
Personal coffee recipes are a real individual philosophy for many coffee lovers. With the Melitta® Caffeo® CI® we offer you a fully automatic coffee machine, which adapts to the individual preferences of up to four people very simply. Intelligent technology and well thought out features are perfectly matched to the preferences of discerning coffee lovers. Exclusive features such as 'My Coffee Memory', 'Bean Select', the 'Plug-in-Milksystem' or the 'Original Preparation Process' will delight you!
Premium quality for personal preferences.
Manual Bean Select
To perfectly prepare a variety of coffee specialities you need a selection of different coffee beans. This is why the Caffeo® CI® has a two-chamber bean container 'Bean Select'. Whether you would like a café crème in the morning or an Espresso after dinner: by simply switching between fine mild coffee beans or aromatic strong espresso beans in the separate chambers you get the right coffee beans for your favourite coffee.
The additional ground coffee chute also allows you to use pre-ground coffee.
My Coffee Memory
You don't want to have to set your personal coffee preferences each time you want a coffee? No problem! With the 'My Coffee Memory' feature you can set your favourite coffeee specialities individually. Wether you would like a small strong espresso or a wonderfully creamy latte macchiato with lots of frothed milk – the Melitta® Caffeo® CI® remembers the personal settings for up to four people!
Unique coffee enjoyement - Original Preparation Process
As every barista knows, to prepare coffee in the original way it is crucial that the ingredients are added in the correct order. So the Caffeo® CI® pours the espresso after the frothed milk for latte macchiato, and for cappuccino it's the other way round.
Intuitive to use
Thanks to the easy to understand menu, the text display and the 'Rotary Switch' dial it is child's play to navigate through the menu. With the 'Double Cup Mode' (2-cup feature) you can prepare all coffee specialities, with or without milk, for two people at once.
Easy to clean and maintain
As well as the simple to remove brewing unit, you can also remove the milk system for easy cleaning. The milk container is even dishwasher safe. With 'Easy Steam Cleaning' you can use hot water and steam to quickly and hygienically clean the parts in contact with milk each time they are used.
TECHNICAL INFORMATION
- Size (WxHxD): 35.2 x 25.5 x 47.3 cm
- Color: Black/ Silver
- Water tank: 1.8 L
- Bean Container size: 270g (2 x 135g)
- Voltage/ Power: 220-240V/1,400W
- Weight: 9.3 Kg
- Display: LCD-Text
- Cappuccino at the touch of a button
- Two-chamber bean container "Bean Select"
- Germany brand, made in Portugal\
THE BIGGEST GIFT - 6.200.000 VNĐ
1. Milk cooler Dometic MFV5M 5L
The refrigerator is suitable for use as a milk cooler for coffee makers. Supply tubes for espresso and coffee makers can be fed through the holes in the sides of the appliance. The cooling device is also suitable for cooling and heating foodstuffs. There is a switch to change between heating and cooling modes. The cooling device is intended to be used in household and similar applications such as staff kitchen areas in shops, offices and other working environments, farm houses, clients in hotels, motels and other residential type environments, bed and breakfast type environments, catering and similar non-retail applications.
Clean chic: milk cooler /mini refrigerator for semi-professional use
The refrigerator can cool products to a maximum of 30°C under ambient temperature or warm them to a maximum of 65°C. A partition can be used to separate foodstuffs, such as drinks and fruit.
For the "Cold" mode, the lowest temperature is 4°C to avoid food and drink from getting freeze.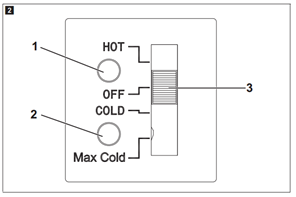 For the extra "Max Cold" mode, the refrigerator will keep cooling to maximum of 30°C under the ambient temperature. The food and drink can be frozen depends upon the ambient temperature.
Elegant milk cooler for commercial use and office use
For coffee machines with self-priming pump and nozzle for cappuccino
For using with up to two 1 litre bags of milk
Sealed openings for milk tube on both sides
Interior lighting inside
The appliance usually runs on the 100-240V AC adapter
TECHNICAL INFORMATION
MyFridge MF-V5M
Item no.: MF-V5M
- Capacity: 5L
- Color: Black
- Voltage: 100-240V ~, 50Hz
- Power consumption: max. 45W
- Cooling capacity: max. 30°C under ambient temperature. Switch-off at approx. 4°C (cold mode)
- Dimensions (W×H×D): 190 × 313 × 305mm
- Weight: 3.7kg
2. 1 Starter Cup Set
3. 1Kg Rosso or Oro
4. 1 Coffee Voucher - 1.000.000 VND