Automatic Coffee machine Melitta® Caffeo Solo
Pure coffee indulgence
Concentrating on the basics – that's Solo®. Minimalistic design, smallest dimensions and easy to operate. For supreme coffee indulgence from whole beans and a soft, velvety crema that melts on the tongue.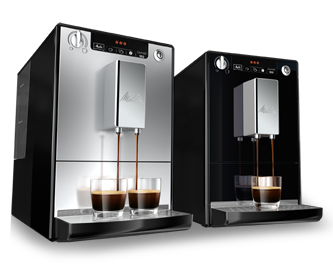 Puristic and compact
The Caffeo® Solo® is only 20cm wide so it takes up very little space yet still has enough room for high quality Melitta® technology.
Unique coffee enjoyment - Aroma-Extraction-System (A.E.S.)
For maximum enjoyment Caffeo® Solo® has a pre-brewing feature: The freshly ground coffee is moistened with water before the actual brewing, this releases the flavours in your coffee. Furthermore you can adjust the grinding degree and coffee strength in three stages to get your ideal taste.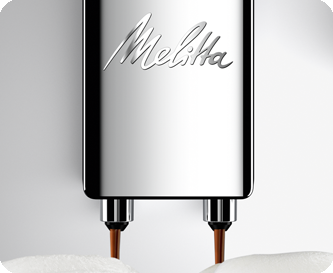 Double Cup Mode (2 cup feature)
Make two cups of coffee or espresso simultaneously at the touch of a button
Height adjustable coffee outlet
For one or two cups, mugs or latte macchiato glasses – the coffee outlet can be adjusted up to a height of 135mm.
Easy to use
The intuitive operating panel with integrated LED symbol display is reduced to essentials, making it child's play to use. You can adjust the coffee strength or choose descaling and cleaning by simply selecting the appropriate symbol. Furthermore Caffeo® Solo® is equipped with a 0-Watt switch which enables to disconnect from the mains while your personal settings are kept.
Easy cleaning and maintenance
The removable brewing unit always guarantees perfect coffee pleasure. It is easily removable and you can rinse it under running water. The interior of the machine can also be wiped out with a damp cloth. Further Caffeo® Solo® automatically lets you know you when to clean and descale.
PROPERTIES: Automatic coffee machine Melitta® Caffeo Solo
Size (WxHxD): 23.5 x 20 x 45.5 cm
Color: Black/ Silver/Red
Water tank: 1.2 L
Bean Container size: 125g
Voltage/ Power: 220-240V/ 1,400W
Weight: 8.3 Kg
Display: LED symbol
Smallest coffee machine
Germany Brand, made in Portugal
This product is 100% genuine imported by Cubes Asia and guaranteed within 24 months by highly qualified technical team.