BWT bestmax PREMIUM with its AromaPLUS formula, is an innovative filtration system for water optimisation in the food service sector. A ground-breaking innovation, BWT bestmax PREMIUM adds minerals to the water using the flavour carrier Mg2+ to achieve the full taste of coffee, tea or cocoa. Mg2+-enriched water can be enjoyed on its own, as it is particle-free and odourless, and its balanced mineral content makes it a pleasant-tasting drink. BWT's bestmax PREMIUM filter balances the minerals in the water, buffers the pH value and produces a firm espresso crema.
Benefits of BWT bestmax PREMIUM at a glance:
PREMIUM taste
Reliable limescale protection
Balanced mineral content thanks to Mg2+
5-stage filtration for maximum effectiveness
How the BWT Professional Water Filter Bextmax PREMIUM works?
Full combo of the water filter system includes:
Protector mini 30um
Filter best head
Catridge BWT Bestmax Premium
When installing, it is recommended to check the filter valve carefully to prevent backflow and water from leaking. See more instruction before installing BWT water filters.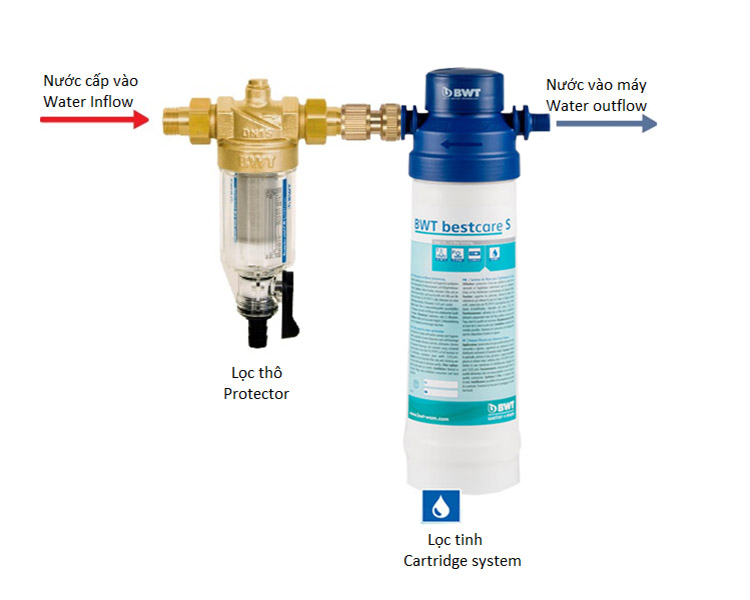 BENEFITS OF BWT BESTMAX PREMIUM FILTER COMPLEX WITH VERSIONS OF INFORMATION
FEATURES
- Filtration system for water optimization in the food and beverage service sector
- Patented Mg2+ technology, balanced mineral content thanks to Mg2+
- Reliable limescale protection and high sensory water quality
- Perfect water for all hot drinks and a pleasant-tasting cold drink
- Removal of chlorine and other flavour-damaging components
- Economical limescale protection for all types of coffee machines
- Balanced mineral ratio for guaranteed aroma and enjoyment
- Perfect foundation for high quality brewed coffee and coffee specialities
- Made in Europe
PROPERTIES: BWT BESTMAX PREMIUM XL CARTRIDGE
Size (HxL): 45 x 14.5 cm 
Weight (dry/wet): 4kg
Water capacity : 4300 liters 
Water temperature: 4 - 40°C
Ambient temperature: 4 - 60°C 
Intake pressure: 2 - 8 Bar
Products are genuine imported by Cubes Asia from Germany.