Coffee grinder Nuova Simonelli MDXS On Demand
Silent technology
MDXS on demand incorporates Silent technology, so far only successfully adopted in high-end grinding machines.
Instant grinding technology
The MDXS funnel system has been designed and manufactured to make coffee powder easily flow out of the grinding chamber, reducing residues and ensuring consistent quality over time.
Precision grinding
MDXS on demand provides high-quality grinding to medium-sized premises, thanks to the new aeration system of the top of the grinding chamber that ensures a constant temperature for the benefit of coffee fragrance.
New filter holder hook
Designed with an aluminum body and with particular attention to ergonomics, MDXS on demand has a new filter holder attachment that provides secure and stable clamping.
Bigger bean hopper
Transparent bean hopper with cover help barista easy to control quantity of coffee bean inside. The high capacity up to 1.6kg, removable hopper to clean machine are also plus points of MDXS on demand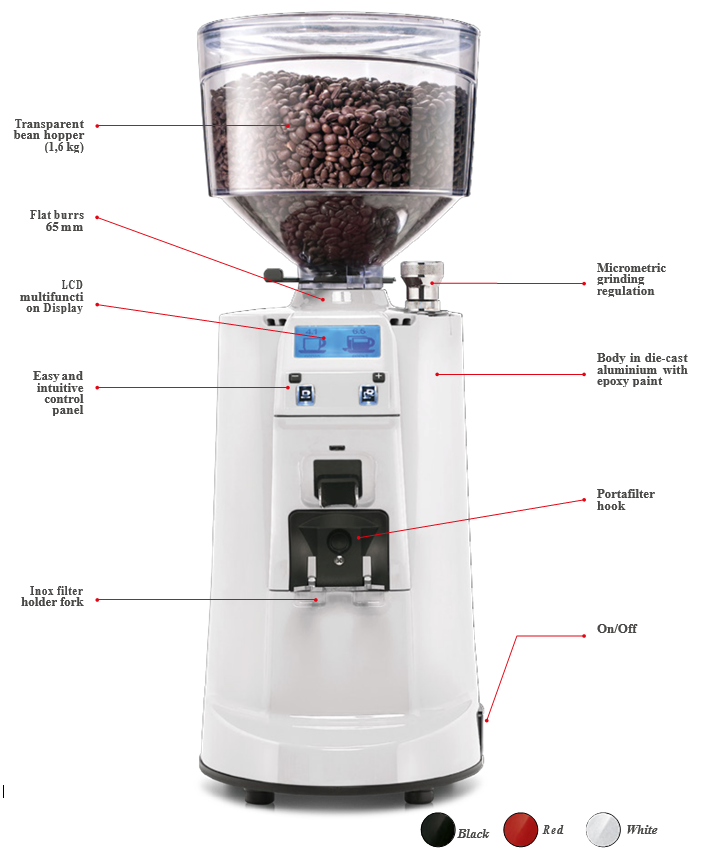 PROPERTIES: Coffee grinder Nuova Simonelli MDXS On Demand
Size (WxHxD): 21.2 x 58.5 x 29 cm
Material: Painted stainless steel
Color: Black
Bean hopper: 1.6 Kg
Voltage/ Power: 110-220V, 500-750W
Weight: 24.5 Kg
Productivity: Up to 10 Kg/h
Speed grinding: 2g/s
Flat burr: 65 mm
Micrometrical grinding adjustment
LCD multifunction Display
Silent technology
Made in Italy
This product is 100% genuine imported by Cubes Asia and guaranteed within 12 months by highly qualified technical team.