The standard for Bean-to-Cup.
Real coffee is pure enjoyment. Something you take a moment to appreciate — no matter where you are or how busy you may be. Pure coffee, freshly ground and just the right temperature. You don't have to be on the terrace of an Italian café. It can happen anywhere. OptiBean by Animo makes freshly ground, espresso-based coffee and many variations in no time. So any moment will be your perfect coffee moment.

The OptiBean has 12 programmable selection buttons. With one touch you can make your favorite coffee. There's a separate tap for hot water, so tea always tastes like it should.
User-friendly in every way
Real espresso, coffee or cappuccino with one push of a button
Selection buttons are simple and user-friendly
Your choice is clearly displayed upon selection
12 programmable selection buttons
Separate tap for hot water
OptiLight LED lighting adjustable to your preference
EFFORTLESS ENJOYMENT
OptiBean is user-friendly in every way. It is easy to setup, simple to operate and requires little maintenance.
One push of a button is enough to enjoy real espresso, coffee or tea in a matter of seconds. It's as simple as that.
DURABLE QUALITY
Brewing the best coffee is a technical matter, too. OptiBean's Swiss-made grinder and Italian brewing system work together to provide the perfect espresso. OptiBean isn't just technically perfect, it's also durable. The materials and construction guarantee hassle-free use for years to come. And OptiBean is energy efficient, which is nice for you and the environment. Clean design lines, LED lighting and a high-quality finish make OptiBean an eye-catching addition to any interior.
Serve bigger, fuller cups with the OptiBean 3 XL
In the situations where cups of coffee bigger than 150 ml. are (also) consumed we advise to use the OptiBean 3 XL. The OptiBean 3 XL is equipped with an extra large espresso system for serving bigger, fuller cups of coffee.
Besides the extra large espresso system the OptiBean 3 XL is similar to the Optibean 3 and equipped with 1 canister for fresh coffee beans and 2 canisters for instant ingredients (chocolate or topping) for serving delicious espresso-based coffee varieties.
The pure taste of freshly ground coffee;
and many varieties of espresso-based drinks
User-friendly in every way
Energy efficient and designed for long life
Separate tap for hot water
A perfect coffee machine for offices, hotels, hospitals, care homes, schools, and more!
OPTIBEAN OPTIONS
Cup detection, so coffee can only be made when a cup is present
Compatible with various payment systems (MDB)
Hot and cold from one machine (Cooling unit in lower cabinet)
Black, white or colored front (standard models comes in stainless steel)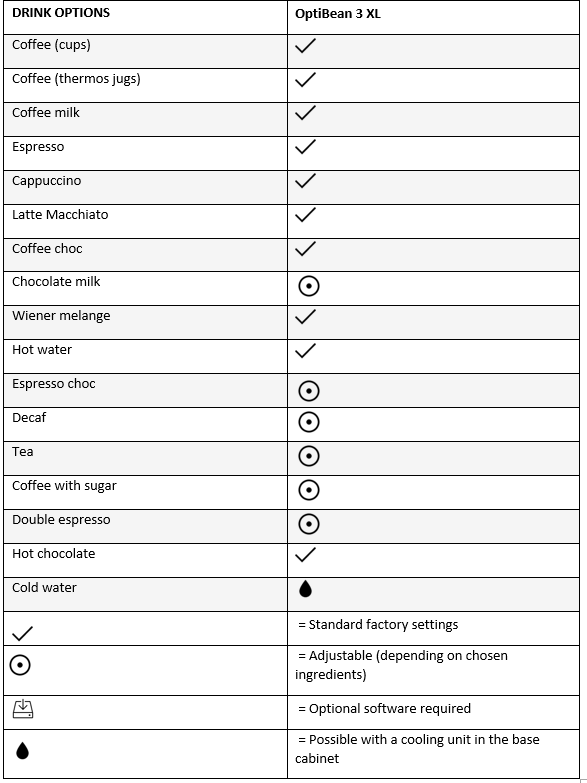 PROPERTIES: Coffee machine Animo Optibean 3 XL NG
Size (WxHxD): 40.9 x 79.2 x 56.5 cm
Voltage/ Power: 220-240V/ 2,275W
Content XL Espresso brewer: 9.5 - 13.4 gr
Bean container: 1500 Gr
Instant container: 2x 1.6 liters for milk powder , chocolate
Large waste compartment: 7 l (abt. 130 cups)
Hour capacity: 14 L/h, 120 cups
Brewing time: 25 - 30 sec 
The Swiss-made grinder with ceramic discs ensures the perfect grind, so the taste of the beans is always optimally maintained.
The new reversed espresso brewer is driven by an external 230V motor and very silent in use.
Made in Neitherland 
Note: This product is available in Ho Chi Minh city only. Customer must be responsible for shipping fee if live outside this area.