The Ecoboiler PB10 is an energy efficient water boiler with a compact footprint that plumbs directly into a mains supply and is suitable for the catering environment. The Ecoboiler PB10 provides you with a constant supply of boiling water for tea and coffee saving you the hassle and the time wasted using kettles. Ideal for all locations - hotels, restaurants, kitchens, coffee shops and canteens.
The machine can provide 28L of hot water equivalent to 150 cups (180ml) per hour. The machine helps to increase the productivity of barista as well as reduce the risk of accidents of working with hot water.
Operation
The "power on" light will glow green and the machine will fill to a safe level, above the elements, before heating.
The "Ready/Status" light will cycle two red flashes while the machine is filling to the safe level.
After this amount of water has heated to about 96°C the boiler will draw more water in until the temperature drops by 1 or 2 degrees. The boiler will then heat again. This heat fill cycle continues until the boiler is full.
On a 10L machine, whilst the machine is above the safe level and filling, the "Ready/Status" light will remain blank.
The "Ready/Status" light will glow green when the machine is both full and up to normal operating temperature.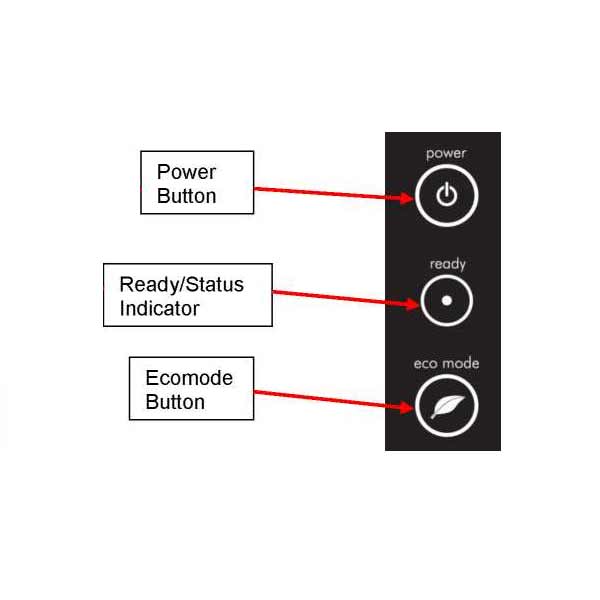 The Ecoboiler control PCB (1600345) has the ability to have the desired set-point temperature at whatever setting is required. During manufacture of the PCB it is set to the default temperature of around 95°C.
ECO Mode Operation:
All ECO Boilers use high grade insulation and it is applied to give a significant energy usage improvement over a standard water boiler.
The 10L ECO Boiler variants also incoprate a ½ tank 'ECO mode' function.
To enable the 'ECO Mode' press the button located below the 'Ready' indicator so that the leaf symbol illuminates green.
This mode saves energy by mimimising the energy wasted during machine down-time.
· NOTE: The ECO mode is most effective in installations where the machine has a regular 'off' period.
To achieve the most benefit from the energy saving 'ECO Mode' on your ECO boiler unit (10L variants only), the following method should be employed:
Towards the end of the boilers operating period for a given day, switch the machine to ECO Mode. Whilst maintaining water at 96oC, the machine tank will slowly drop to half full, where it will remain.
Note when use:
To prevent chafing of the cable, do not let the mains cord hang over the edge of a table or counter ; or touch hot surfaces.
Switch off at the mains (unplug or disconnect from outlet) and turn off the water supply when not in use and before cleaning. Allow to cool before removing components.
Do not use outdoors. Do not place on or near a hot gas or electric burner.
PROPERTIES: Water heater Marco Ecoboiler PB10
Dimensions (WxHxD): 21 x 59 x 46.4 cm

Voltage/ Power

: 230V/2800W
Capacity: 10L
Tap to drip tray: 12.9cm
Performance : 28L per hour (156 cups 0.18L per hour)