CUNILL Grinder
Model: KENIA-TRON
The electronic coffee grinder for medium use
The model Kenia-Tron is equipped with the successful anti-vibration system and silencer motor Cunill of 63 dB.
Inox and technology….the perfect combination
Touch screen
Easy programming and intuitive use for the professional barista.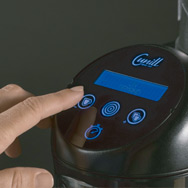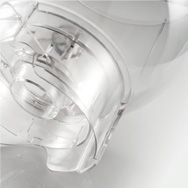 Soft Touch
The control panel "Soft Touch" with its keypad and LED lights, can set three different dosages: single dose, double dose and personal dose, for greater adaptability to the specific needs of each barista
The perfect ground.
More comfortable, more homogeneous, more fresh, perfect. Quality assurance from the first to the last espresso of the day.
SINCRONIC
Match the coffee machine with the wished time to fill the cup and adjust the milling of the coffee bean to make a perfect espresso coffee.
Innovative design adapted entirely in front of the mill for pressing functionality and coffee press support.
TECHNICAL INFORMATION:
- Size (WxHxD): 21 x 51 x 38 cm
- Material: Stainless steel
- Color: Grey-Black
- Bean Hopper: 1 Kg
- Voltage/ Power: 220-230V/ 356W
- Weight: 11 Kg
- Productivity: 0-500gr/ 6'
- Tempered steel grinding wheel (62HRc): 60mm
- Motor supplied with thermal protector
- Multi-language touch screen
- Air noise: 63dB
- Made in Spain