Automatic coffee machine Melitta Caffeo Passione
The space saving miracle for fresh coffee enjoyment 
Experience fresh coffee enjoyment in a new compact size: The new Melitta® Caffeo® Passione® with the special Melitta® Best Aroma System. 
In terms of variety the Caffeo® Passione® impresses too: with the practical Auto Cappuccinatore you can successfully make all coffee specialities with milk in an instant.
Best Aroma System
The Aromasafe® seal on the bean container means that the diverse flavours and aromas of your coffee beans are even better protected. The Bean to Cup feature means that only the amount of coffee beans you need are freshly ground and then the ground coffee is immediately brewed. The grinder runs until empty each time to prevent mixing different types of bean. The unique pre-brewing and extraction process (A.E.S.) ensures that the coffee flavour develops perfectly.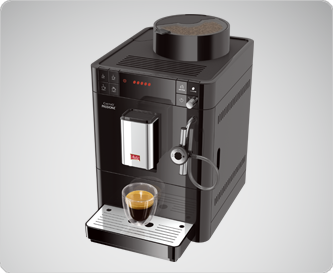 Compact construction, modern design
The Caffeo® Passione® sets new standards for compactness. The cubic form is visually impressive and is so compact that you can find the ideal place for it anywhere.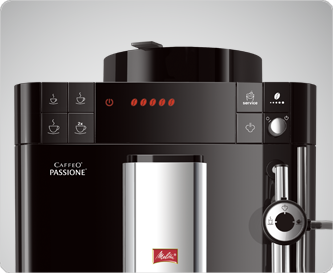 Easy to use
The intuitive operating panel with integrated symbol display is reduced to essentials making it child's play to use. Choose the cup size really simply with three pre-set product buttons (small, medium, and large).
Auto Cappuccinatore
Auto Cappuccinatore: The all-rounder for frothed milk and more. The practical Auto Cappuccinatore guarantees perfect frothed milk. But it can also do more: It can heat milk or water i.e. for delicious cocoa or the occasional spontaneous cup of tea.
Height adjustable coffee outlet
The outlet of the Caffeo® Passione® is continuously adjustable and so is suitable for all sizes of cups or glasses up to 135mm.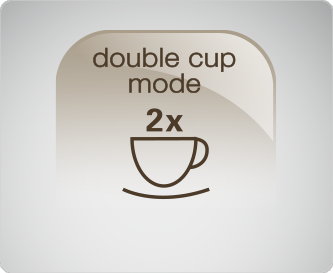 Double Cup Mode
With Double Cup Mode you can prepare two cups of your favourite coffee at once.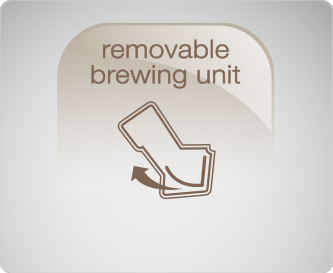 Brewing unit can be removed at the side
The practical and user-friendly removal of the brewing unit makes it easy to clean. The interior of the machine can also be cleaned.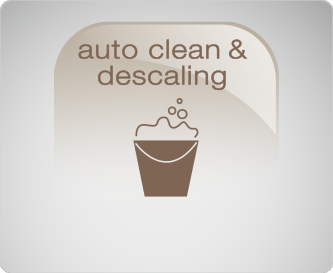 Auto Clean & Descaling
The Caffeo® Passione® automatically indicates in the display when it needs to be cleaned or descaled. The cleaning or descaling programme is simple to call up in the menu.
Energy saving feature
Equipped with a prgrammable energy saving mode, a programmable automatic switch off feature and a 0 watt switch to manually switch off, the Caffeo® Passione® has an up to date energy saving package.
PROPERTIES: Automatic coffee machine Melitta Caffeo Passione
Size (WxHxD): 25.3 x 39 x 28 cm
Color: Black/ Silver
Water tank: 1.2 L
Bean Container size: 125g
Voltage/ Power: 220-240V/ 1,450W
Weight: 11 Kg
Display: LED symbol
Pump pressure: 15 bar
Seperated milk frother
Germany brand, made in Portugal
This product is 100% genuine imported by Cubes Asia and guaranteed within 24 months by highly qualified technical team.