Look® Aqua DeLuxe
Coffee? Tea? It knows the correct temperature!
The Look® Aqua DeLuxe Water kettle is pretty smart. It heats up your water to the correct temperature at the touch of a button: 95° C for pour-over coffee, 80° C for green tea, and it can also boil water at 100° C.
And it is packed with other exciting features too! Cordless connection to the 360° base station, single-handed use, illuminated scale that is readable from both sides: the Look® Aqua DeLuxe takes heating up water to the next level!
It has a capacity of 1.7 litres, and it looks great too. Fancy giving it a new home?
3 temperature settings and warm keeping function
Three temperature settings that each have their own button: select 95° C for pour-over coffee, 80° C for green tea, or the 100° C setting whenever you need boiling water. The smart warm keeping function will keep the water at the temperature of your choice for up to 30 minutes.
Container illuminated in blue and scale on both sides
The illuminated scale can be read from both sides to make measuring out the desired amount of water really easy. The LED light also indicates whether the water kettle is currently in use.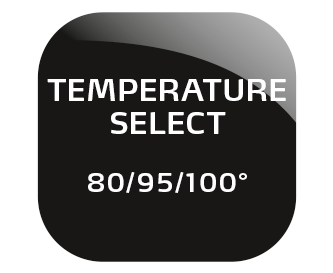 High-quality stainless steel elements
What a great look! The high-quality stainless steel elements are the icing on the cake of the water kettle's modern and attractive design.
Automatic switch-off upon picking up
Convenient and safe: the water kettle is switched off automatically, as soon as you take it off the base.
1.7 l volume
It can get you a long way! The volume of 1.7 l provides a generous supply, whenever you need larger amounts of hot water.
Single-handed operation
Handy: you can operate and open the water kettle with just one hand.
Easy to wind up cable
And it's gone: you can wind up the water kettle's cable if needed. It will disappear inside the housing of the base station.
Cordless kettle with 360° base station
Do you want the handle on the left or on the right side? The kettle doesn't mind. The 360° base station establishes contact with the kettle in any position. Extra convenient: the kettle itself is cordless.
Technical features:
Size (WxHxD): 22.9 x 22.8 x 15.5 cm
Weight: 1 Kg
Voltage/ Power: 220V/ 2400W
Capacity: 1.7 L
Made in China