Coffee grinder Nuova Simonelli MCD
MCD The MCD is a professional high capacity grinder, perfect for specialty Coffee shop. Made out of die-casted aluminum and a high power motor the MCD has been built from the ground up to grind a large amount of beans in a small amount of time.
Featuring
1. Stepless, micrometric grind adjustment
2. High power electric motor
3. Stainless steel 75mm burrs
4. Transparent bean hopper (2 pounds)
5. Bag locking spring
Micrometric grind adjustment
With Micrometric grind adjustment the barista can adjust the grind to the smallest of adjustments at any point in the process of grinding.
Stainless steel 75mm burrs
This grinder comes standard with Steel Burrs . Allowing the ability to grind up to 1500 pounds of coffee before requiring replacement.
Portafilter Holder
This grinder is capable of holding the portafilter while it is dosing, meaning that the barista can operate other equipment during the grinding process.
Transparent bean hopper
The Large 2 lb hopper means you can grind more beans before refilling is necessary.
Die-cast aluminum body
Built to last the MCD On-Demand is made of a hardened aluminum body.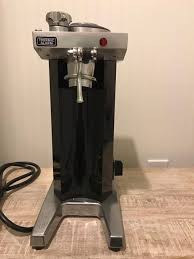 PROPERTIES: Coffee grinder Nuova Simonelli MCD
Size (WxHxD): 20.5 x 66 x 28 cm
Material: Painted stainless steel
Color: Black
Bean hopper: 1.5 Kg
Voltage/ Power: 230V/ 700W
Weight: 18 Kg
Productivity: Up to 14 Kg/h
Flat burr: 75mm
Policarbonated bean hopper
Micrometrical grinding adjustment
Made in Italy
This product is 100% genuine imported by Cubes Asia and guaranteed within 12 months by highly qualified technical team.