Coffee machine Marco Bru F45M 1.8L
Easy to use - reliable - affordable, these are the characteristics that make the Bru F45M Coffee Machine reach the eyes of many customers around the world. 
Bru F45M uses "flash boiler" technology. Beside that, this coffee machine from Marco is also have exceptional features as follows:
- Availabe with 2 glass 1.8L jug
- Manual fill options
- Improved sprayhead performance
- 2 coffee warming tray 
- Simple set up and service 
- Energy efficient and easy to use small batch brewers for canteens, coffee shops, businesses 
How to use Marco Bru F45M Coffee Machine:
PROPERTIES: Coffee machine Marco Bru F45M 1.8L
Dimensions (WxHxD): 25 x 50.7 x 60 cm
Voltage/Power: 230V/ 2,400W
Weight: 8kg
Brew capacity: 1.8L/jug
Glass bottle Marco Bru F45M 1.8L
With the design and materials help you contain and pour coffee easier, this bottle is plus for Marco Bru F45M coffee machine. You can put it at warming tray, so coffee always retains its delicious flavor.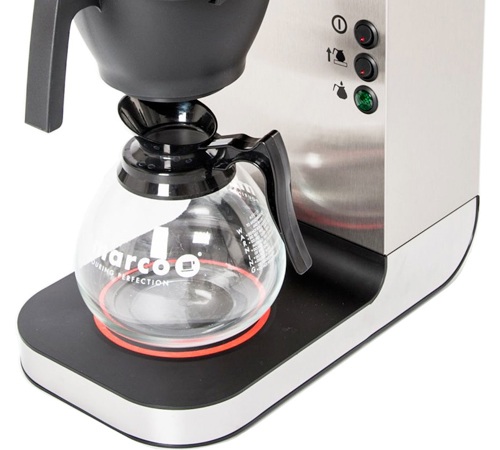 PROPERTIES: Glass bottle Marco Bru F45M 1.8L
Material: Glass and plastic
Dimension (WxDxH): 21.4 x 36.5 x 44.6 cm